We believe that it's important to share our knowledge and research as widely as possible. We host seminars and conferences to disseminate our findings and act as a voice for the sector by representing our members at international events.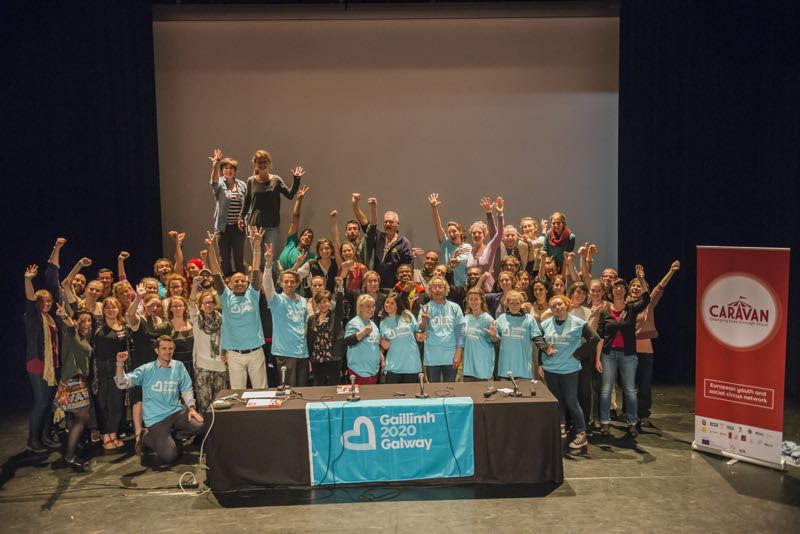 Circus Arts have a significant impact on the social, professional and economic transformation of the individuals. Caravan, the European youth and social circus network, and Ecole de Cirque de Bruxelles organise the « European seminar: Transformation through Circus Arts – A New Narrative for Europe » on 29 and 30 June 2016 in Brussels. This major event, supported by the Erasmus+ programme, the Representation of the European Commission in Belgium, the Federation Wallonia-Brussels and the Brussels-Capital Region, has highlighted the importance of social circus on today and future European values.
Youth and social circus key actors from all around the world participated in this seminar to share and exchange their expertise and knowledge. Brussels was at the centre of intensive reflections: How circus arts can trigger a change on the European society? How to fight social exclusion, school dropouts, unemployment through circus arts?
The participants were the first ones to be acquainted with the latest international innovations. Among them, Caravan presented the results of the European project CIRCUS+, which aimed at analyzing the market needs in order to identify the ideal professional profile in the field of youth and social circus. This project laid down the foundations for the creation of a curriculum for the 1st European degree programme for social and youth circus teachers.
During two days, professional and emerging circus trainers, European network representatives, political figures at regional, national and European levels along with university researchers joined together to discuss, debate and develop the social circus sector in order to improve its benefits in and outside Europe.
The Maison des Cultures et de la Cohésion Sociale of Molenbeek hosted the participants coming from 20 different countries among which Finland, United Kingdom, Sweden, Czech Republic, Palestine, Cambodia, Afghanistan, Israel,…
High level panel discussions, hands-on and participatory workshops, informal exchanges, networking and a special show were the ingredients of this European seminar where circus arts will build a better Europe!