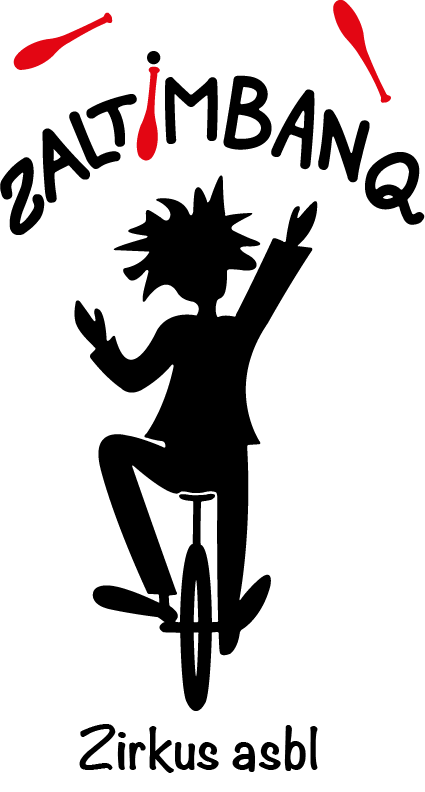 Location Luxembourg City, Luxembourg
Year established 
1993
Caravan Member since 2010
Students per week 250
Vision Zaltimbanq'Zirkus is an wellknow actor of the cultural landscape in Luxembourg and offers beautiful and joyful altenative activities without competition and completes the cultural offer in Luxembourg. People smile when they come and leave. Our values à transmitted to young and less young people and help them to develop, to socialise and become creative.
Luxembourg's only circus school has over 250 students, aged between 4,5 and 50 years old, taking part in one (or more) of the 30 weekly classes. These classes include parent-child circus, multidisciplinary classes, specific classes (acrobatics, unicycle, trapeze…) and performing group workshops. Furthermore there is an open training space once a week.
The school also provides workshops for children and/or adults with foreign teachers during school holidays and on weekends, social circus projects (prison, disadvantaged neighbourhoods, mentally and physically challenged people, …) and performances for different audiences. In May, Zaltimbanq' organizes the festival "Cirque sous Chapiteau".  During 10 days a number of international artists visit the big top to perform on stage and to work with the y oungsters of the school. The festival also gives the students the possibility to show what they have learned to their parents and friends.
International Cooperation Projects
Caravan
Youth Circus Projects
Annual classes all year long, youth creation workshop 10/18 – 09/19, workshops during schoolholidays and weekends, shows for school classes all year long, open doors 06/19

Social Circus Projects
Project with Abtei Neumunster with youth with difficult social background 10/18 – 06/19, Itziger Stee circus with youth with difficult background – national pilot project 11/18 – 04/19