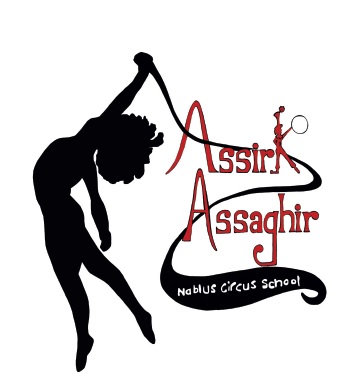 Nablus performing arts & circus school
Assirk Assaghir is made up of a team of motivated trainers and enthusiastic students from the Nablus area, including surrounding villages and refugee camps. Many of the trainers have been with the circus since its establishment in 2004 and have worked tirelessly as volunteers to keep their dream alive.
the students, likewise, have a very high level of commitment to the circus project and participate in classes more than four days per week.
Assirk Assaghir provides circus workshops for children and teenagers in acrobatics, stilts, unicycle, clowning, juggling, trapeze, tissue and other with occasional workshops in music and acting. All activities require that the students encourage and support each other, creating an environment of trust where students feel free to take risks and express themselves.
In addition to skills training, trainers also facilitate a group discussion after each class in wich students are free talk about what is happening in their daily lives. During these discussions the trainers encourage the students become active, not only in circus, but in other aspects of their lives, especially in school. Assirk Assaghir is not only a circus school, but also a performing team. In addition to the occasional performances by the students at the conclusion of their courses, the trainers and older groups of students are also asked to perform in many different centers around Nablus and in the refugee camps.
Where We Work
Circus Under Occupation:
Assirk Assaghir is based in Nablus, palestine in the northern west bank; one of the areas the most hard-hit by the israeli occupation. When one thinks of occupation the multiple checkpoints surrounding the city, frequent invasions by the Israeli army in the night and high unemployment rate come to mind immediately. however, the more subtle effects, such as a lack of playgrounds in most neighborhoods, an unbelievably high students to teacher ratio in shools and almost no affordable extracurricular activities are the realities that affect children. Assirk Assaghir focuses on combating these subtle effects of the occupation in order to provide children with a safe place to play, more individual attention than they get in schools and a fun extracurricular activity that builds skills and allows them to develop their personalities.