Our mission here at Caravan is to spread the positive impact of youth and social circus, so we're extremely excited to announce that we have launched our brand new monthly newsletter. It'll be full of youth and social circus opportunities, news, jobs and updates and we hope it will become a useful resource for everyone in the sector.
You can read the first newsletter here. Meet our two new members Hringleikur, Iceland and Compagnie des Contraires, France and find out about their social circus activities. Discover job opportunities in Luxembourg, France, Australia, USA and Ireland and sign up to international conferences and training for circus trainers.
You can sign up to future newsletters by clicking here. If you have youth and/or social circus news, updates, jobs, events or training opportunities that you'd like to share with the world – please do send it over to us by clicking here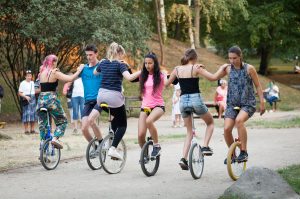 Circus Legends Youth Exchange, read more here.