The youth festivals promote the involvement of youngsters in the creation of a circus performances. They aim is to stimulate international dialogue and favor their personal, physical and professional development.
Moreover, the youth festivals gather different pedagogical projects of circus for children, teenagers and youngsters from all over Europe.
Past events
25 – 28 June 2015 – Bagneux, France
For the 7th edition of the Festival Hip Cirq, Le Plus Petit Cirque du Monde has its doors wide open for everyone to watch, exchange, enjoy, practice, applaud, offer, drink, eat, meet, remember and dream together about the future. This 4-day party aims at opening together the new space of Le Plus Petit Cirque du Monde.
More info here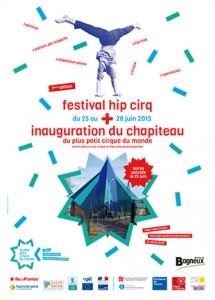 ---
4 to 9 August 2015 – Tampere (Finland)
First ever international Caravan Youth Circus Festival will be held in Sorin Sirkus, Tampere Finland, in August 2015.
The Festival introduces performances from eight international circus schools, along with workshops, masterclasses and good atmosphere participants for all the participants.
The Festival is a part of 30th anniversary of Sorin Sirkus.
The programme for the festival includes workshops, master classes, performances by participating groups, possibility to see other shows in Circus Ruska Festival and in Tampere Theatre Festival, and naturally having lots of fun together!
The planned line-up of participating circuses are  l'Ateneu Popular 9barris, Belfast Community Circus, Cirkus Cirkör, Cirqueon, Circus Elleboog, Galway Community Circus, Circus Upsala and Sorin Sirkus.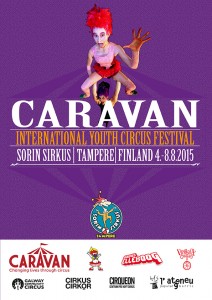 ---
13 – 28 June 2014, Paris (France)
A record number of 600 children, teenagers and young people participated in this life changing experience mixing together education, entertainment and fun. This event ranged from circus to hip-hop, and included dance, theatre and many more. This original melting pot « à la française » took place from 16 to 22 of July.
---
30 May 2014 – 15 June 2014, Barcelona (Spain)
Our Spanish partner Ateneu Popular 9 Barris prepared a huge social circus event. More than 300 young people with fewer opportunities were involved in this festival aiming at:
highlighting one year of hard work in educational, artistical and social circus
projects towards young people with fewer opportunities,
gathering different educational circus projects for children, teenagers and young people and presenting them during the festival.
improving physical activity, self-confidence, dialogue and solidarity among young European people.
---
02 – 05 May 2014, Belfast (Northern Ireland)
This event was the biggest celebration of street theatre in Northern Ireland featuring international acts from 12 countries around the world. The young performance troupes from different Youth Circus schools took part in the 2014 Festival of Fools, for which they created a new show. The performances put the achievements and quality of young people onto an international platform.
The participants gained in confidence and this participation will lead to increased opportunities for the performance troupes.
---
31 May 2013, Barcelona (Spain)
The main objectives of this social circus activity are:
to promote and conclude one year of work on artistic and educational projects and on the circus values addressed to young people with fewer opportunities.
to gather different circus pedagogical projects for children, teenagers and young people
to present those projects during the youth festival
---
4 – 5 May 2013, Belfast (UK) – Festival of fools.
This event enhanced the participation of the young people with fewer opportunities in the creation of a circus show, fostered intercultural dialogue and increased the self-confidence of the young participants.
The artists from the project Hip Cirq Europ performed their fantastic show, mixing circus arts and hip hop, during this festival.
---
2 – 5 May 2013, Amsterdam (The Netherlands)
The objective is for the kids to get familiar with the different circus disciplines. They had the opportunity to improve their physical literacy through the practice of circus and danse.
---
1 – 8 July 2012 (Wavre/Belgium) – Ptit'Cirq' en Palc
This event has gathered 50 young participants (12-16 years old) coming from all over the French Community of Belgium, and even beyond it ! Indeed, they were joined by young artists from the Circus School of Berlin.
The "P'tit Criq' en Palc" was divided into two major parts. During the first five days, the young participants followed residential training courses where they could practice, create, improve themselves and meet with the other participants. Afterwards, they were ready to present their creations at the "P'tit Criq' en Palc Festival" itself, which took place during the weekend in the centre of Wavre.